---
Products List
Windows
Round
Square
Cuboid
Lenses
Single
Complex
Other
Prisms
Right Angle
Penta
Corner Cube
Filters
Cut-off Glass
Selective Absorption
Neutral Glass
Mirrors
Germanium
Sapphire
Silicon
IPL
Coating
Materials
Other Products

---

About Us
Order
Contact Us

---









---
Home > Products > Filters > IR-CUT Optical Filters
IR-CUT Filters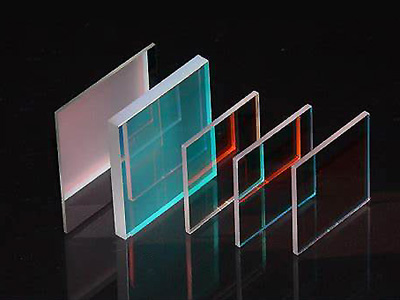 The IR-CUT optical filter is made of optical glass or B270 and coated with an optical cutoff coating and or anti-reflective coating. It is allows visible light to pass through and cutoff or reflection of infrared light. The IR-CUT optical filter is mainly used in digital cameras, mobile phones, computer cameras, monitors, videophone and so on. So that through the camera after the light wave filter to the high-frequency segment, only a certain range of low-frequency light waves through. The addition of optical glass cell phone filter between lens and CCD or CMOS image sensor can effectively suppress ripple disturbance caused by light wave passing above CCD or CMOS image sensor space frequency, and effectively suppress infrared light wave, improve the effective resolution and color reduction of color CCD and CMOS image sensor, make the image clear and stable.
Creator Optics can provides various customized IR-CUT optical filters according to customer requirements. There are following avaliable tyles of IR-CUT optical filters:
IR-CUT optical filter ( IRCF ).
| | |
| --- | --- |
| Glass Name | Type |
| | IRCF600, IRCF630, IRCF640, IRCF650, IRCF690, IRCF710, IRCF735, IR808, etc. |
Specifications of IR-CUT Optical Filter:
Specifications\Grade

Precision

Standard

Size Range

Dia3mm to 50mm, 5x5, 10x10, 15x15, 25x25, roung / circular or square / rectangular, customized available

Thickness

0.5mm to 2mm , customized available

Size Tolerance

+/-0.05mm

+/-0.1mm

Thickness Tolerance

+/-0.05mm

+/-0.1mm

Edge

ground

cutting

Chamfer/Bevel

0.25*45°

sharp edges

Flatness

1/8 lambda per inch @633nm

1/2 lambda per inch @633nm

Parallelism

30 arc sec

3 arc min

Surface Qulitity

20/10

60/40

Clear Aperture

>85%

>85%

Coating
cutoff filter coatings, cutoff band 600nm, 630nm, 640nm, 650nm, 690nm, 710nm, 735nm, 808nm, etc, customized available. AR coatings
Material
BK7, B270, etc
For more detailed specifications of these optical filters or other special products, please contact us.