---
Products List
---
Complex Lens (Achromatic lens)
These lenses include two different glasses. They are crown glass and flint galss. There are
three specific wavelength bands available.
They are designed to perform weel throughout the entire near-infrared spectrum. Their ability
of producing sharper images is superior to that of the single slement lens.

Double lens is a closely spaced and often cemented, combination of positive and negative
elements of different refractive index. These elements are closen so that the chromatic
aberration is cancelled at two distinct and well-separated wavelengths.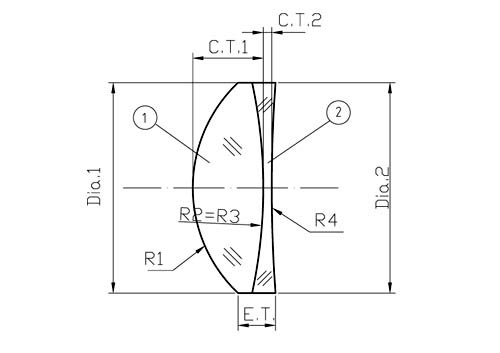 Common Specifications
Specifications

Lens 1

Lens 2

Size Range
10-100mm
10-100mm
Diameter Tolerance
+0/-0.1mm
+0/-0.1mm
Thickness Tolerance
+/-0.1mm
+/-0.1mm
Centering Tolerance
<3´
3´
Surface Quality
60/40,40/20
60/40,40/20
Surface Accuracy
3-0.5
3-0.5
Clear Aperture
>85%
>85%
Bevel
0.1-0.25mm*45°
0.1-0.25mm*45°
Coating
AR/AR, customize available
Material
Crown glass / Flint glass




*

For more information or other materials and requests, please

Contact us.