---
Products List
---
Home > Products > Windows >

Sapphire Viewport
Sapphire Viewport, Vacuum Sapphire Window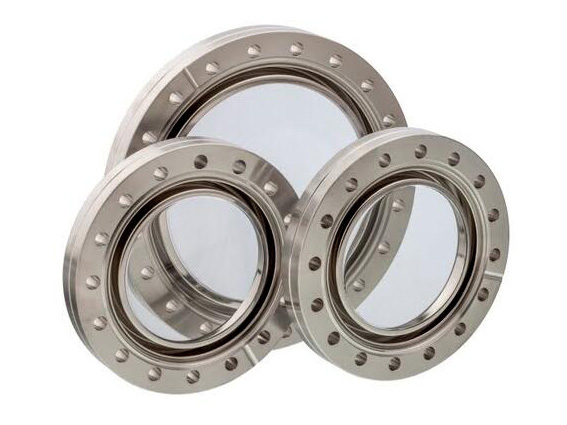 The vacuum observation window is a welding adapter (-W), fast-connected flange (-QF/KF) or CF flange to seal the planar parallel window with stainless steel. This assembly is used to import/export the transmission of electromagnetic radiation into a sealing system. At present, several standard materials have covered many common transmission ranges and applications. Optical coatings can enhance and optimize the transmission of observation windows, and the standard configuration of observation windows is a narrow/wideband anti-reflective coating.
Creator Optics can make customized sapphire viewport glass for vacuum and industrial furnaces. The diameter of sapphire glass is from 12mm to 200mm and the thickness is from 2mm to 20mm. The sapphire viewport glass has deep-polished surface, good flatness and parallelism. Optical coatings are avaliable upon request.
The specifications of customized sapphire viewport glass are as follows:
Specifications/Grade

Precise

Standard

Material
CZ Sapphire, Ky Sapphire, HEM Sapphire
Diameter
12mm to 200mm, customize available
Thickness of Sapphire Viewport
2mm to 20mm , customize available
Diameter Tolerance
±0.05mm
±0.1mm
Thickness Tolerance
±0.05mm
±0.1mm
Edge
fine ground or polished
fine ground or polished
Chamfer
0.2- 0.5*45°
0.2-0.5 *45°
Flatness / Surface Accuracy
λ/2 per inch @633nm
λ per inch @633nm
Parallelism
30 arc sec
3 arc min
Surface Quality
40/20
60/40
Clear Aperture
≥90%
≥90%
Coating for Sapphire Viewport
anti-reflective coating, customized available
* For more information or other materials and requests, please contact us.