Corner Cube Prisms, customized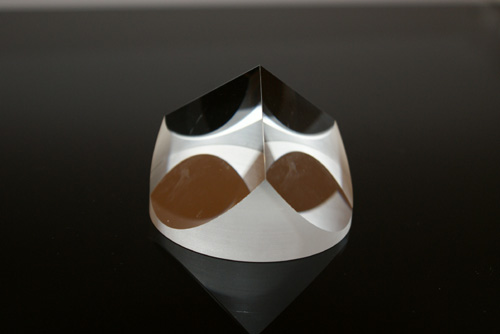 Corner cube prisms (retro-reflectors) reflect input beam by 180 degree independently of its angle of incidence with the function of total internal reflection based on critical angle. This means that any light incident on the aperture will emerge along the same path that it came from in high reflectance.
The accuracy of these prisms is shown with the angular deviation (parallelism) between input and output beams. It depends on the mutual perpendicularity of the trihidron surfaces.
Cretor Optics (CNCO) offer these customized corner cube prisms as coated with BMAR for visible or uncoated. The edges and the roof are chamfered (beveled) for chipping prevention.
The specifications of optical corner cube prisms as follows:
| | |
| --- | --- |
| Material: | BK7, sapphire, fused silica |
| Size arange: | 6mm to 50mm, customized available. |
| Size tolerance: | +/-0.2mm |
| Surface Quality: | 60/40, 40/20 |
| Surface Accruacy: | 1/4 lambda per inch at 633nm |
| Coating: | Broadband Multilayer AR caoting for Visible (BMAR) |




*

For more information or other materials and requests, please

contact us.