---
Home > Products > Prisms
Optical Prisms, Customized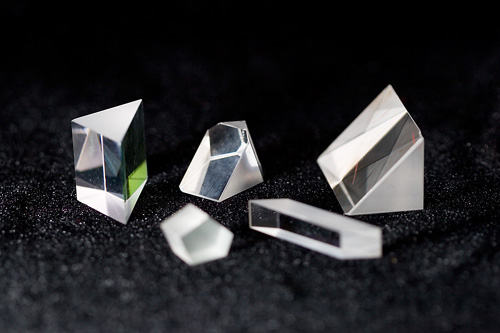 The optical prism has four functional properties of a prism: image transposition, deviation, displacement and dispersion. Creator Optics offers a variety of different prisms for various application and in several materials.
Cretor Optics (CNCO) provides all kinds of customized optical prisms made from optical glass, optical crystal and laser crystal from UV, VIS to IR.
The main materials contain: BK7 glass and all catalog optical glass, Sapphire crystal, Quartz crystal, Silicon monocrystal, etc.
The main types contained: Right-Angle Prism, Penta Prism, Corner Cube Prism, Roof Prism, Wedge Prism, Dove Prism, Brewster Prism, etc.

Surface Quality: 80/50, 60/40, 40/20, 20/10, 10/5.


Surface Accuracy / Flatness: up to 1/20 lambda per inch.


Angle Tolerance: from 3 arc minutes up to 30 arc seconds.


Coating: different brand single layer or multiplayer anti-reflective ( AR ) coatings, high reflective ( HR ) coatings, protective Al or Ag coatings, etc. Customized available.
To learn more details of customized optical prisms or special shaped prisms, please contact our sales engineers today.