---
Products List
Windows
Round
Square
Cuboid
Lenses
Single
Complex
Other
Prisms
Right Angle
Penta
Corner Cube
Filters
Mirrors
Germanium
Sapphire
Silicon
IPL
Coating
Materials
Other Products

---

About Us
Order
Contact Us

---









---
Home > Products > Sapphire Optical Components > Sapphire Windows > Micro Sapphire Windows
Micro Sapphire Windows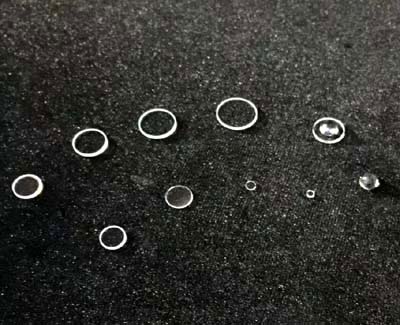 In many cases, sapphire windows need to be smaller and more accurate, depending on the application requirements. Creator Optics can make micro sapphire windows and Ultra-thin sapphire windows. The minimum diameter can be as small as 0.3 mm. The thinnest thickness can be as thin as 0.2mm.
All of these Micro Sapphire Windows have deep-polished surface, good flatness and parallelism. Optical coatings are avaliable upon request. It can be used as a front-end protection window for endoscopes, and the edges can be coated with solder layers to facilitate good sealing and durability after welding and assembly.
Specifications of Micro Sapphire Windows:
Specifications/Grade

Precise

Standard

Materials
CZ Sapphire, Ky Sapphire, HEM Sapphire
Diameter
0.3mm to 10mm or square, customized available
Thickness
0.2mm to 1mm , customized available
Diameter Tolerance
+/-0.02mm
+/-0.05mm
Thickness Tolerance
+/-0.02mm
+/-0.05mm
Edge
fine ground or polished
fine ground or polished
Chamfer
sharp edge or 0.25 *45°
sharpe edge or 0.25 *45°
Flatness / Surface Accuracy
1/4 lambda per inch @633nm
1 lambda per inch @633nm
Parallelism
30 arc sec
3 arc min
Surface Qulitity
40/20
60/40
Clear Aperture
>90%
>90%
Coating for Micro Sapphire Windows
anti-reflective coatings, AR/AR, customized available
* For more information or other materials and requests, please contact us.