---
Products List
Windows
Round
Square
Cuboid
Lenses
Single
Complex
Other
Prisms
Right Angle
Penta
Corner Cube
Filters
Mirrors
Germanium
Sapphire
Silicon
IPL
Coating
Materials
Other Products

---

About Us
Order
Contact Us

---









---
Home > Products > Prisms > Dove Prisms
Optical Dove Prisms, customized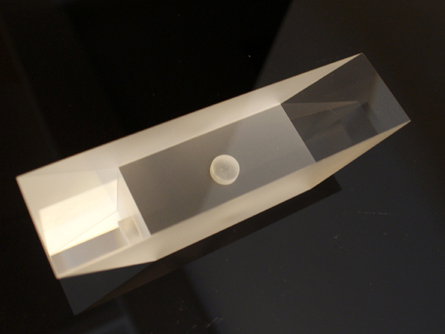 The optical dove prism has two applications: the main application is used as a rotator. it can rotate an image but without deviating the beam. And when the prism is rotated about the input parallel ray throuht some angle, the image rotates through twice that angle. It is very important that the application must be used with parallel or collimated beam and the large square reflective surface should be kept very clean. Another application is used as a retroreflector. For this application it perform as a right-angle prism.
Creator Optics ( CNCO ) can custom optical prisms made of optical glass and crystal, such as BK7, fused silica, sapphire and so on.
In addition to the conventional shape, special specifications, such as punching, slotting, etc. are also available.
The specifications of customizde optical dove prisms are as follows:
| | |
| --- | --- |
| Material: | BK7, fused silica, sapphire |
| Size arange: | customized available |
| Size tolerance: | +/-0.2mm |
| Surface Quality: | 60/40, 40/20 |
| Surface Accruacy: | 1/4 lambda per inch at 633nm |
| Chamfer (Bevel) : | 0.2mm to 0.5mm |



*

For more information or other materials and requests, please

contact us.