---
Products List
---
Home > New Products >

Infrared Sapphire Windows
Infrared Sapphire Windows

Infrared grade sapphire substrate
Quality infrared coating
Optimized in near-infrared to middle infrared
Main application wavebands: 2.0 to 2.7 microns, 3 microns to 5 microns
Sapphire has many applications in the first and second atmospheric windows (2.0 to 2.7 microns and 3.0 to 5.0 microns) of mid-wave infrared. Infrared sapphire windows are combined with MWIR (Mid-wave infrared) coatings to meet different application requirements.
Technical requirements of substrates for infrared sapphire window.
For the sapphire window applied to mid-wave infrared, Creator Optics selected infrared grade sapphire single crystal (Al2O3) as the substrate. Their average transmittance in mid-wave infrared is more than 87%.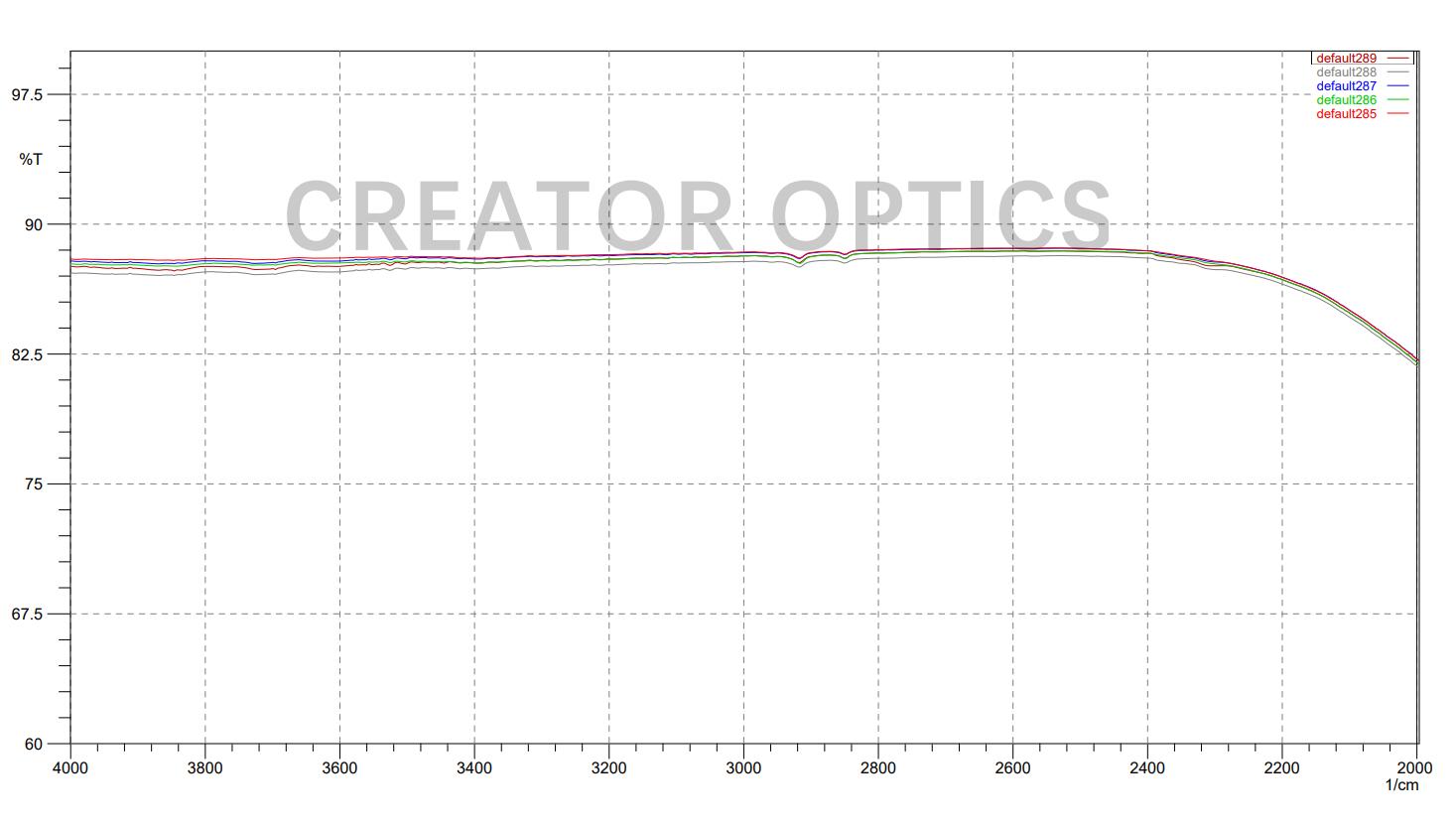 These infrared grade sapphire crystals are processed into the required precision outer size infrared sapphire window blank by laser orientation machines, CNC cutting machines, cylindrical mills, multi-wire cutting machines, etc. They are then processed by deep CMP, MRF to complete an infrared sapphire optical window with excellent surface quality, surface flatness.
Optical coatings of infrared sapphire windows.
The coating of infrared sapphire windows used for MWIR applications is usually the antireflective coating and related functional film in these wavebands, such as hard protective film, hydrophobic and oleophobic film, etc. They need to be optimized for specific application wavebands.

Currently, Creator Optics can perform the following types of optical coatings on infrared sapphire windows:
Anti-reflection coating at 2000nm to 2700nm, the first atmospheric windows
Anti-reflection coating at 3000nm to 5000nm, the second atmospheric windows
Hard protective film (HDAR)
Hydrophobic and oleophobic film
How to guarantee the performance of infrared sapphire windows.
All infrared sapphire windows provided by Creator Optics are strictly inspected. Certified raw material suppliers, precise measurement of geometric dimensions, microscopic inspection of surface quality, spectral measurements as well as environmental testing and so on. All of these infrared sapphire windows have factory quality certification.

Specifications of Infrared Sapphire Windows:
Windows Dimensions
Diameter from 1mm to 300mm, customized available
Windows Thickness
customized available
Dimensions Tolerance
+/-0.1mm
+/-0.1mm
Thickness Tolerance
+/-0.05mm
+/-0.05mm
Windows Edge
fine ground
fine ground
Chamfer / Bevel
minimum 0.2x45 degrees
minimum 0.2x45 degrees
Surface Flatness
up to 1/20 lambda per inch @632.8nm
up to 1/20 lambda per inch @632.8nm
Double-sided Parallelism
30 arc seconds
30 arc seconds
Surface Qulitity
40/20
40/20
Clear Aperture
>90%
>90%
Coating
anti-relection coatings, 2-2.7um, 3-5um, customized available
* To inquire about infrared sapphire window stock products or for more details, please contact us.