---
Products List
---
Home > Products > Lenses > Single > Bi-concave Lens
Bi-concave (BCV) Lens / Double Concave (DCV) Lens, custom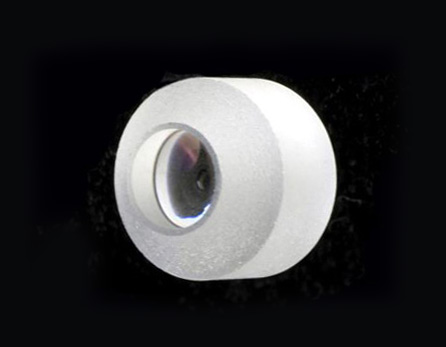 The Bi-Concave / Double Concave Lens has a focal length, diverges collimated incident light, and forms only virtual images that are seen through the lens. It's often used to expand light beams or to increase focal length in existing systems. The BCV / DCV lens is normally used in combination with other lenses. In a single lens application you should consider using them in preference to a single plano-concave lens if the magnification lies in the region. They are widely used in telescope, collimators, optical transceivers, magnifiers, radiometers and condensers.
Creator Optics can custom produce various AR coated and uncoated bi-concave / double concave lenses. These BCV / DCV lenses are usually made of following materials:
BK7 glass and all catalog optical glass, Sapphire crystal, UV fused silica, Corning 7980, JGS1, Quartz crystal, Germanium ( Ge ) monocrystal, Silicon monocrystal, ZnSe, Barium Fluoride ( BaF2 ), Calcium Fluoride ( CaF2 ), ZnS, Pyrex, BOROFLOAT, float glass, etc.
In addition to the traditional form factor, the company can also provide double concave lens with special shapes, such as a double concave lens with a cut shape ( special cutting lenses ), rectangular, step edge and so on.

Surface Quality: 80/50, 60/40, 40/20, 20/10, 10/5.


Coating: We provide different single layer or multiplayer anti-reflecting (AR) coating against differrent requirements. Customized available.
Specifications of Bi-Concave ( BCV ) Lenses: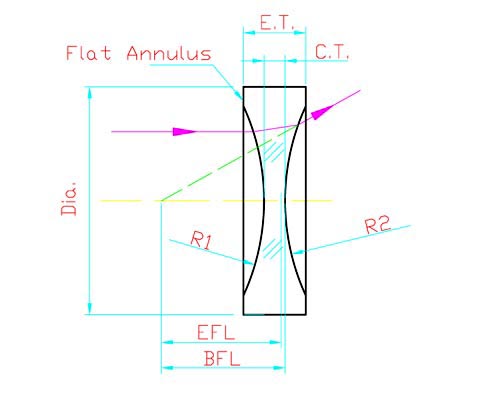 Items/Categories

Precision

Standard

Size Range
Dia10-200mm
Dia5-300mm
Diameter Tolerance
+0/-0.05mm
+0/-0.1mm
Thickness Tolerance
+/-0.05mm
+/-0.1mm
Centering Tolerance
<1´
3´-5´
Surface Quality
40/20, 20/10
60/40
Surface Accuracy
0.5-0.2
3-0.5
Clear Aperture
>85%
>85%
Bevel
0.1-0.25mm*45°
0.1-0.25mm*45°
Coating
anti-reflective coating ( AR/AR ), customized available



*

For more information or other materials and requests, please

contact us.