---
Products List
Windows
Round
Square
Cuboid
Lenses
Single
Complex
Other
Prisms
Right Angle
Penta
Corner Cube
Filters
Mirrors
Germanium
Sapphire
Silicon
IPL
Coating
Materials
Other Products

---

About Us
Order
Contact Us

---
---
Plano-convex Lens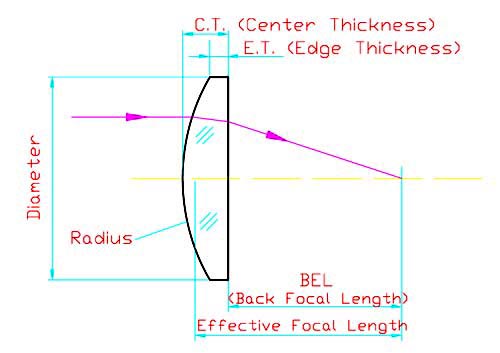 The Plano-Convex Lens has positive focal lengths, converge incident light,
and from both real images (as might be focused in a piece of paper), and virtual
images (as are seen through the lenses when they are used as magnifiers).
They are widely used in telescope, collimators, optical transceivers, magnifiers,
radiometers and condensers.

Cut lenses like rectangle, step according to various requirements are available.

Main material of plano-convex lens:
BK7 glass and all catalog optical glass, Sapphire crystal, Quartz crystal,
Germanium (Ge) monocrystal, Silicon monocrystal, ZnSe,
Barium Fluoride (BaF2), Calcium Fluoride (CaF2), ZnS, Pyrex,
BOROFLOAT, float glass, etc.




Surface Quality: 80/50, 60/40, 40/20, 20/10, 10/5.


Coating: We provide different single layer or multiplayer anti-reflecting (AR)
coating against differrent requirements. Customize available.
Specifications\Categories

Hi-Precision

Standard

Size Range
Dia10-200mm
Dia5-300mm
Diameter Tolerance
+0/-0.05mm
+0/-0.1mm
Thickness Tolerance
+/-0.05mm
+/-0.1mm
Centering Tolerance
<1´
3´-5´
Surface Quality
40/20, 20/10
60/40
Surface Accuracy
0.5-0.2
3-0.5
Clear Aperture
>85%
>85%
Bevel
0.1-0.25mm*45°
0.1-0.25mm*45°
Coating
AR/AR, customize available
* For more information or other materials and requests, please Contact us.